From our humble beginnings at the Swim and Tennis Club in 1964, Rancho Bernardo Community Presbyterian Church, under the leadership of Rev. Henry Green dedicated the sanctuary and opened it's doors on May 1, 1966.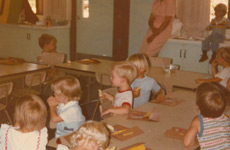 In our early years, we strove to reach out to the families in our communities. To that end, we started a preschool in what was predominantly a retirement community. From that small class of 20, in 1967, we've grown to serve over 300 families each year.
We soon outgrew our first sanctuary and a larger one was built in 1978. Included with the growth was a two-story education building, furthering our mission to reach out to families. The new facilities were a true blessing as RBCPC became a community center as well as a place of worship.
In 1987, Dr. Woody Garvin became the senior pastor and pushed our focus to touch the world, expanding our reach beyond our local neighborhoods. We sent a team of 500 to Mexico, with Habitat for Humanity. We opened our thrift store, now called our Resale Shops, to care for our local community and fund the many mission projects and the people who wanted to serve. We also welcomed a growing Arabic Speaking congregation who needed a place to meet, and they have flourished into a wonderful and integral part of RBCPC's life.
Dr. Bruce Humphrey came on as the senior pastor in 1998. He brought with him an emphasis on people becoming passionate about living and serving like Jesus. Our second sanctuary could not hold the people who came each week and an even larger sanctuary and office space was built. We've added many programs to continue our community efforts and work towards our mission to Worship God and reflect the love of Jesus in serving others - the wording has changed over the years, but these values have been with us since the beginning.
In September 2014, RBCPC celebrated it's 50th Anniversary. We are proud to have been a pillar of our community for such a long time, and it's our hope that this trend continues into the future. RBCPC continues to reach out to San Diego and the world to spread the life and love of Jesus Christ.
On September 27, 2015, Pastor Bruce Humphrey retired from his pastorship here, in order to move to the east coast to be closer to his family. We then embarked on an interesting and unprecedented path as a church - with permission from the Prebytery, we did not search for an interim pastor and instead worked with a our existing Pastoral Team to create the Transition Team, who led us until we found our new Senior Pastor.
Then in March of 2017, our pastor nominating committee found the Rev. Dr. Bryan Stamper. With joy and excitement our church welcomed Pastor Bryan and he accepted the call to lead our church on March 12th, 2017. We are so excited to see where God will lead us in the years to come!