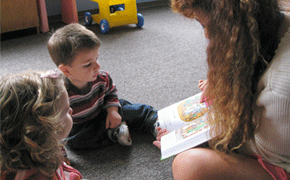 Childcare is regularly offered during normal Sunday services, at 8:30 AM, 10:00 AM & 11:30 AM. Childcare may also be offered during events being held at RBCPC - check the event information to learn more.
RBCPC's childcare facilities are located downstairs in the main building. From the main entrance, go down the stairs to the left or take the elevator down and the facilities will be to the left.
We strive to provide the best childcare available. All our volunteers have had background checks, and we seek to provide a loving, safe atmosphere for the youngest members of our community. To read all of RBCPC's childcare and child protection policies, please see the document below.
RBCPC's Childcare Policies
For more information about childcare, please contact Dawn Fortier, .